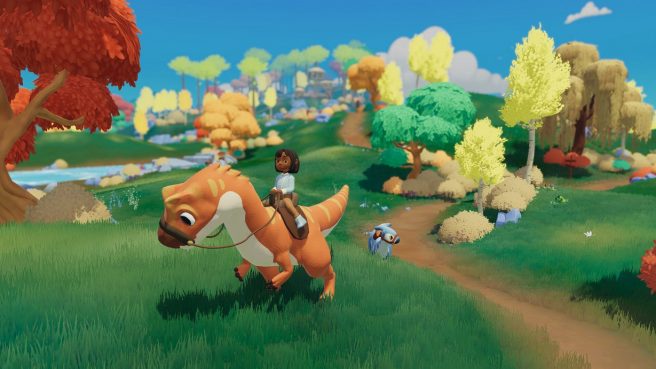 Paleo Pines continues to receive post-launch patches, and the game is now at version 1.2.15.
One of the important things addressed here is memory/save data optimizations to reduce crashes. A ton of other fixes have been pushed out as well.
Here's the full rundown:

Paleo Pines update version 1.2.15 patch notes
Further memory/save data optimizations to reduce (and hopefully fix) crashes on consoles.
Fixed repaired composters respawning and replacing dreamstones placed where they used to be.
Fixed getting stuck after placing your first seed bowl and leaving the ranch or reloading.
Fixed being unable to use seeds in recipes, which made sesame buns impossible to cook.
Fixed following dinos sometimes getting stuck in forced walk mode.
Added extra footprints to the second Corythosaurus tracking quest to make them easier to find.
Fixed slightly raised areas of ranch terrain which clipped through paths and biome tiles.
Fixed dropped items being able to fall past the edge of the navmesh where they couldn't be retrieved.
Fixed "All in the Wrist" and "A Brand New Bakery" being triggerable at the same time, causing duplicates of Granny and Marlo.
Fixed a Spanish translation error which caused confusion between blueberries and cranberries.
Fixed the Spanish translation claiming that Euoplocephalus stands on two legs rather than short legs.
Fixed unreasonably large collision on the Palo Verde tree.
Fixed animation when mounting a dino while it played its 'disgusted' animation (e.g. immediately after waking up).
Dino head look is now disabled during petting, so the hand positioning is more consistent.
Fixed a seam in the Ariacotta navmesh for large dinos.
Fixed a forest puddle blocking navigation for large dinos.
Fixed a broken task in "Stone Mason Owynn" if you already had the required stone.
Fixed a few broken animations when mounted on certain dinos.
Fixed Mari's dino storage not working correctly with very old saves.
Fixed incorrect weather when loading a slot with a different season to the main menu season.
Fixed some Shenanigan dinos clipping into the upgraded library.
NPC wallets now reset daily regardless of game day (reduces the impact of the game day reset bug).
Desert merchants now start work at 6am, for a much healthier 13 hour work day.
Mari and Owynn now appear properly in the Plaza for Shenanigan.
Fixed a softlock when quitting while harvesting a wild collectable.
Credited individual linguists who worked on the translations. 
Many other things too minor to mention.
All players on Switch can download the Paleo Pines version 1.2.15 update now.
Related