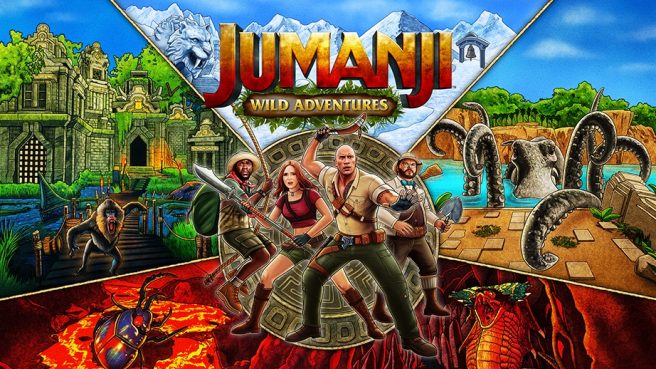 Jumanji: Wild Adventures has launched on Switch today, and gameplay footage of the title has arrived. We have just under half an hour of gameplay available.
Catch up on the game with the overview below:
Jumanji: Wild Adventures reunites the world's most heroic explorers in a hilarious and exciting multiplayer adventure. Dr. Smolder Bravestone, Ruby Roundhouse, Franklin "Mouse" Finbar and Professor Shelly Oberon are all back and ready to quest as they search for treasure beyond their wildest imaginations. Players will have to work together as they find themselves back in the vast world of Jumanji, where they will be tasked with finding The Jewel of Jumanji, a mysterious artifact that is the key to finding their way back home.

Featuring huge locations and formidable bosses, Jumanji: Wild Adventures is an all new, follow-up to Outright Games' previous best selling title Jumanji: The Video Game. The game will be four times bigger, with a vast world to explore, including uncharted jungles, forgotten villages and icy mountains, even more deadly encounters and special items to unlock.

The playable rag-tag group of explorers all have hilarious personalities and totally unique strengths, as well as unlockable powers and abilities which players can use to customize their play. Players can choose to quest alone with solo play, or team up with 4-player local co-op to create the ultimate adventuring team. With fiendish puzzles and dangerous enemies awaiting all who dare to escape the jungle, Jumanji: Wild Adventures is played best with friends and family.
Related