Disney Dreamlight Valley leaving Early Access in December, A Rift in Time Expansion Pass announced
Gameloft has made a few announcements for Disney Dreamlight Valley, including the news that the game is leaving Early Access in December and an Expansion Pass dubbed A Rift in Time is on the way.
The Early Access period ends on December 5, 2023. Those who have been playing already will keep their access to the game, their Moonstones, and their save data.
However, Disney Dreamlight Valley will remain a paid game for the foreseeable future." Speaking about the decision, Gameloft said:
This choice ensures that Disney Dreamlight Valley will be able to continue delivering on a premium game experience for all players. It's important to us that we maintain our promise to keep delivering free content updates that add new characters, realms, clothing, furniture, and more surprises to your Valley. Purchases requiring moonstones will remain optional, fair, and match the level of quality players have come to expect. Players will still be able to collect free Moonstones via Dream Snaps and Chests, or optionally choose to purchase them.
The Disney Dreamlight Valley Founder's Packs will be sold through December 5. After that, new editions will be available. New players can purchase the core game (with bonus Moonstones) on its own or the Gold Edition, which includes excusive cosmetic items, access to the A Rift In Time expansion, and even more bonus Moonstones.
Here's a look at the contents: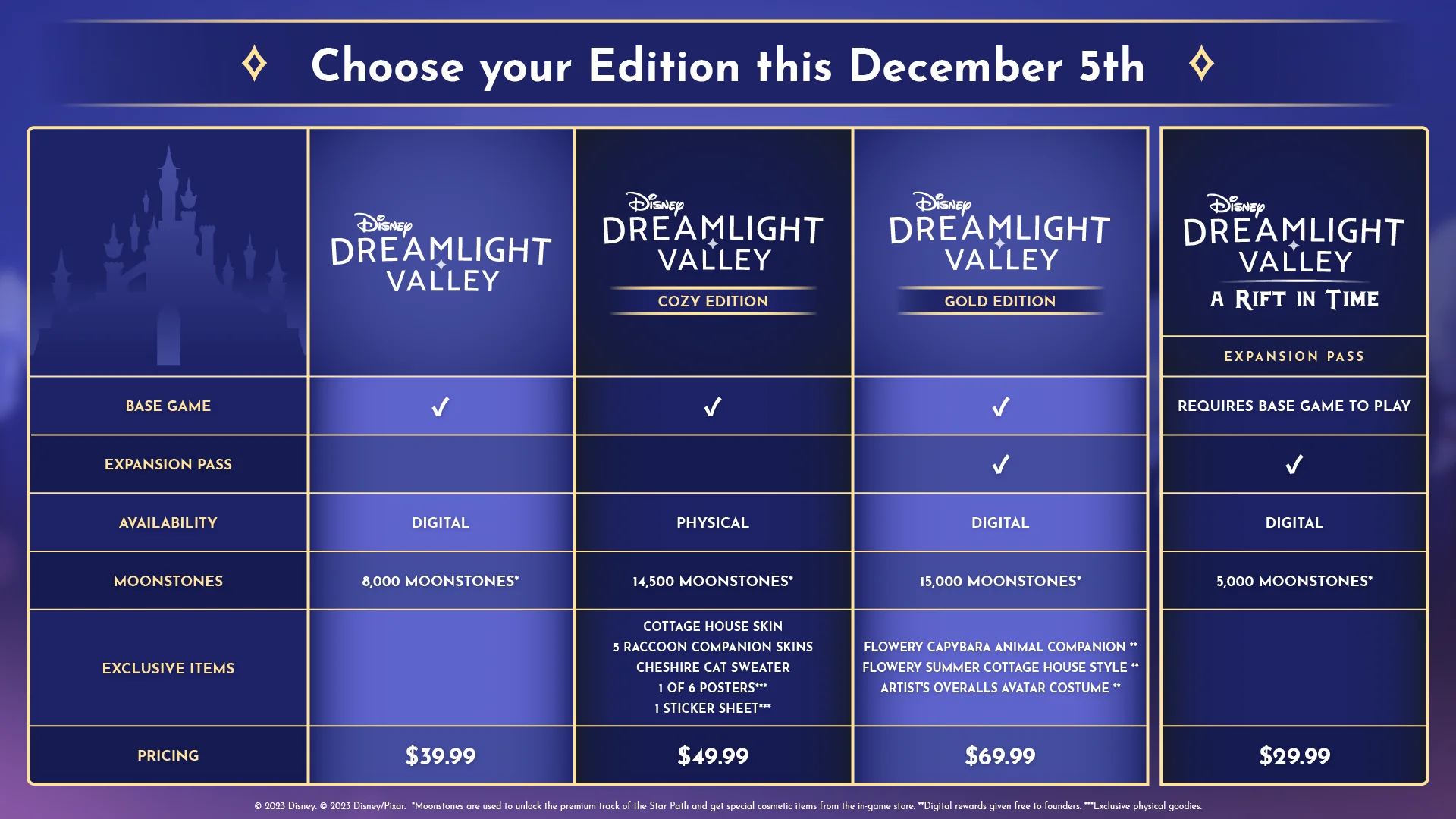 Early Access players will receive all unique cosmetic items included in the upcoming Gold Edition free of charge as long as they claim a Founder's Pack in-game on or before December 4 regardless of tier. Additionally, all Founders will receive 2,500 Moonstones.
As for Disney Dreamlight Valley: A Rift in Time, it will also be launching on December 5. Fans can learn more about it on November 1 at 10 AM PT / 1 PM ET / 6 PM in the UK / 7 PM in Europe by watching a showcase on Twitch, YouTube, or Facebook Live. The event will show off the adventure in Eternity Isle where you'll meet new friends, discover new biomes, and immerse yourself in new gameplay features.
Source
Related