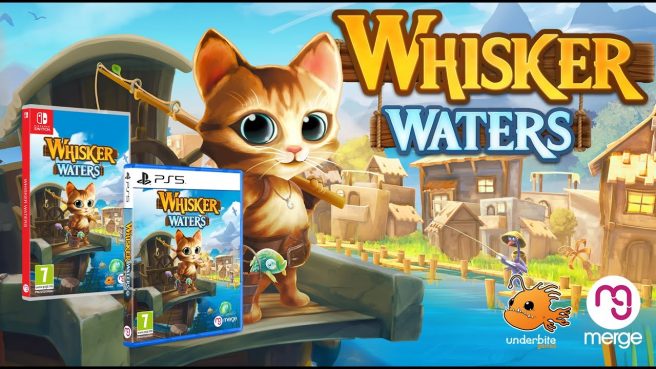 Whisker Waters was previously announced for Switch, but we now have confirmation that it will have a physical release at retail.
Maximum Entertainment, Merge Games, and Underbite will be working together on the boxed editions. As of now no special editions have been announced.
Here's an overview of the title:
For many years, the bears, birds and cats lived together in harmony. Adventurers known as Fish Rangers, who used rod and reel as their primary tools, served their communities and united the townsfolk. Until the Great Disturbance… Unleashing conflict and plague on the people of the land, the Fish Rangers rallied to the source and halted the spread – diligently the Rangers remained on guard, as generations and slowly faded away into legend.

Now, inspired by stories of the legendary rangers, one young kitty looks to carve out of a tale of their own.
Explore a vibrant and wholesome world with an exciting new chapter around every corner, as you set out to expand your skills and master the art of fishing. With tons of different fish, tools and techniques to learn, reconnect the 4 regions, reunite the townsfolk and becoming a living legend!

Key Features

Unleash Your Fishing Skills: Unlike any other game, Whisker Waters makes fishing the star of the show! Use cool fishing tools to explore and catch all kinds of unique fish. Each fish has its own tricks, making it exciting and rewarding!
Easy to Play, Hard to Master: Whether you're a fishing pro or just starting out, this game has something for everyone. Put away your swords and learn to solve challenges with clever fishing techniques!
Make Friends and Help Others: In Whisker Waters, cats, bears, and birds live together in harmony. Join them, befriend the locals, and help them out. Get awesome rewards and unlock cool gear to use on your journey!
Create Your Special Cat: Make your Cat character uniquely yours with tons of cool stuff to choose from. Customize and show off your one-of-a-kind adventurer!
Regions Alive With Lore: At every turn, a new chapter awaits. Each region is different and possesses its own distinct narrative, inviting you to become part of its tale of adventure, mystery, and companionship. Unravel these stories, and let their enchantment become a part of your journey.
Whisker Waters is due out for Switch in Spring 2024, and the game's physical release will be sold at major retailers worldwide.
Related