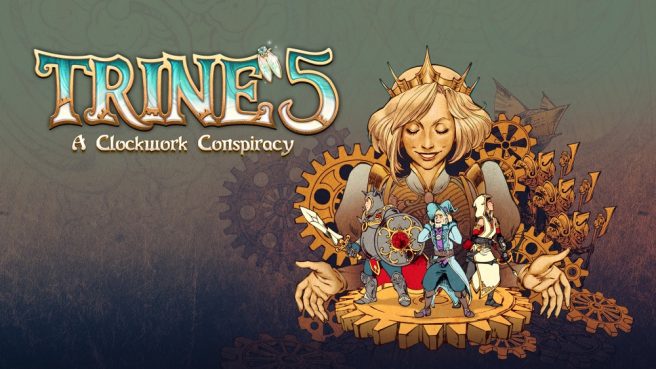 A new version 1.0.4 update has been made available for Trine 5: A Clockwork Conspiracy.
A big feature is now available in the form of cross-play between Switch, PC, Xbox One and Series. An invite feature is included as well, though that's limited to specific platforms. Elsewhere various adjustments and fixes have been implemented.
Here's the full rundown:
Trine 5 update version 1.0.4 patch notes
Major Fixes / Additions:

Crossplay added between all of the following platforms in public and private games: All different PC storefronts, Nintendo Switch, Xbox One and Series.
Virtual keyboard enabled for consoles for password input, allowing private games to support Crossplay.
Invite feature added (does not support Crossplay!).
Invites enabled for all consoles, within their own console families.

General fixes:

Fixed hosted lobbies sometimes not appearing in the "Browse Games" -list when there were many ongoing games.
Plugged a memory leak.
Fixed a rare case where a joining player brought in an extra local player with them.
Fixed local players spawning off screen in some cases.

Save system:

Fixed a case of getting stuck joining a game when player's save slots were full.
Fixed Quick Join creating new saves, if player already had a save of that game.

General Gameplay:

Last used character is now remembered in Classic games if players use a character not default for their player number.
Fixed being unable to descend a ledge into ledgegrab if standing slightly over the edge.
Improved ledgegrabbing on sloped terrain.
Disallowed client having story progress locked skills unlocked, that the host doesn't yet have, if they played the same save further on their own and then join back.
Fixed "Last player remaining" -effect persisting after disconnecting.

Skills:

Fixed a rare crash when controlling another Pontius' Prismatic Talisman.
Fixed object lock effect persisting on Pontius' thrown sword.
Fixed some upgrades being able to use incorrect player number for their function.
Exploding clone no longer deals damage to the final boss through its invulnerability.

Level 4:

Fixed a sharp camera re-focus after breaking out of the Garden Party Gazebo.

Level 7:

Pontius breaks laws of physics less and no longer can get out of bounds in the level.
Prevented starting a fight too early by throwing boxes ahead.

Level 8:

Gate Guardian nor Tower Guardian can get stuck anymore to their flamethrower attack if Amadeus shoves a box to their face.

Level 9:

One less puzzle that can be broken with Wind Burst and cause player to get stuck.
Fixed broken French localizations for opening cutscene.

Level 12:

Added a rope target to the bottom of the elevator near the end of level, in case player falls off.

Level 15:

Fixes and improvements to the Sauna secret.

Level 18 and 19:

Fixed Clockwork Mages causing softlocks by falling off or spawning so that they never teleported back up.

Localizations:

Fixed overlapping texts in Nintendo Switch's localizations of Czech, German and Japanese.
All players on Switch can download the Trine 5: A Clockwork Conspiracy version 1.0.4 update now.
Source
Related