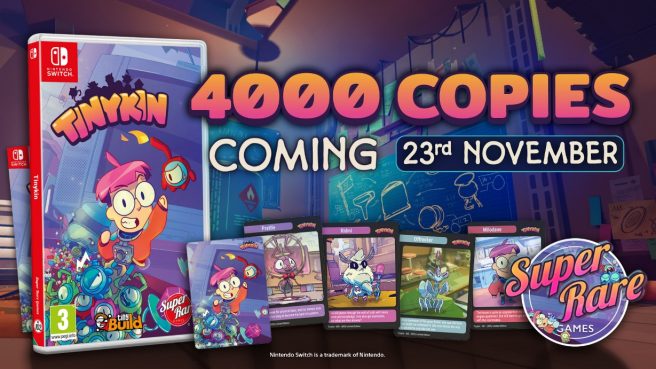 Super Rare Games today revealed its latest Switch physical release, which will be Tinykin.
The game will be sold with a boxed version for the first time. 4,000 copies will be sold with each unit containing the game on a physical cartridge, a full-color manual, an exclusive sticker, and trading card pack.
Tinykin first appeared on the Switch eShop in August 2022. Find some information about the game below.
Get ready to plunge into an unforgettable adventure in Tinykin, where friendship, mystery, and exploration converge. Join Milo and the tinykin on this crazy journey – a world filled with wonders and surprises. Unlock the secrets of Earth in a game that will capture your heart and imagination!

Key Features

Insect Metropolis Exploration: Discover intricate cities of ants, beetles, and more within a giant house.
Interactive Storytelling: Immerse yourself in diverse character stories and histories.
Catch & Utilise Over a Hundred Tinykin: Capture tinykin with special abilities, aiding you in climbing, unlocking doors, and problem-solving.
Skateboard Adventures: Join Milo on a soap-board for thrilling skateboard escapades, exploring new heights and secrets.
Upgrade Milo's Gear: Enhance Milo's equipment, expand the Ardwin Museum, and complete Ridmi's mysterious machine.
Super Rare Games will have the physical release of Tinykin here. It will be available on November 23, 2023.
Related