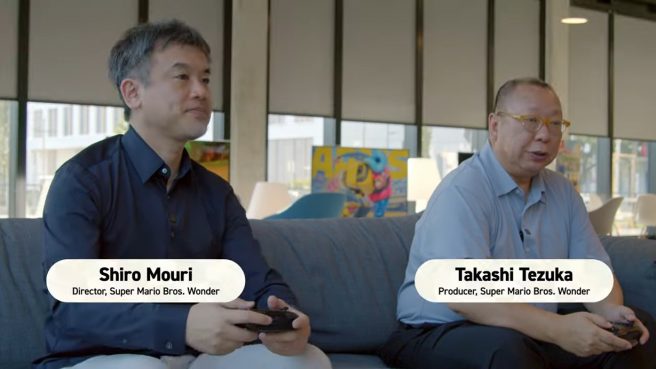 Nintendo UK posted a new video in which Super Mario Bros. Wonder producer Takashi Tezuka and director Shiro Mouri play one of the game's courses. It's not overly special or long, but it's rare to see this type of content from the company.
Here's some information about the game:
Every course contains its very own Wonder Flower – collect one, and anything can happen. From moving pipes to tilting terrain, singing Piranha Plants to stampeding Bulrushes, skydiving to space walks, you never know what'll happen next. You might even transform into something totally new!

Pick to play as Mario, Luigi, Peach and more! They all play in exactly the same way, so you can freely use your favourite character without having to worry.

The world of Super Mario Bros. Wonder is even better when enjoyed with others! Play together locally or online and help save the Flower Kingdom from Bowser as a team, or enjoy enhancements to solo play by connecting online.
Check out the full Super Mario Bros. Wonder video with Tezuka and Mouri below.
Super Mario Bros. Wonder – The developers play
Super Mario Bros. Wonder is out on Switch now.
Related