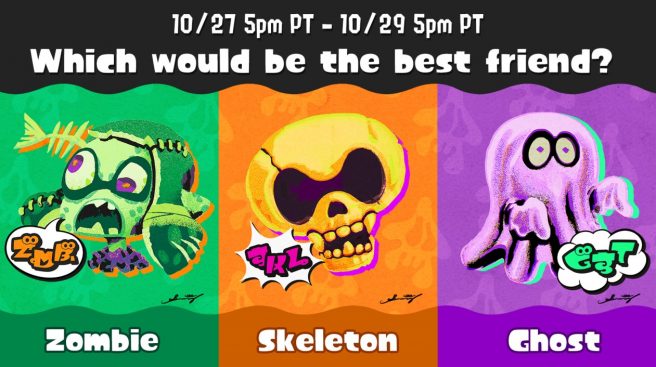 We have the full results from the tenth official Splatfest in Splatoon 3 held for Halloween (or Splatoween), which had the zombie, skeleton, and ghost teams going up against each other.
At halftime, it seemed like things were extremely close. Team Skeleton had the slim lead with 34.08 percent, followed by Team Ghost with 33.08 percent and Team Zombie right behind that with 32.84 percent.
As for the full results for the tenth Splatfest in Splatoon 3 with the Zombie vs. Skeleton vs. Ghost Halloween / Splatoween event, they are as follows: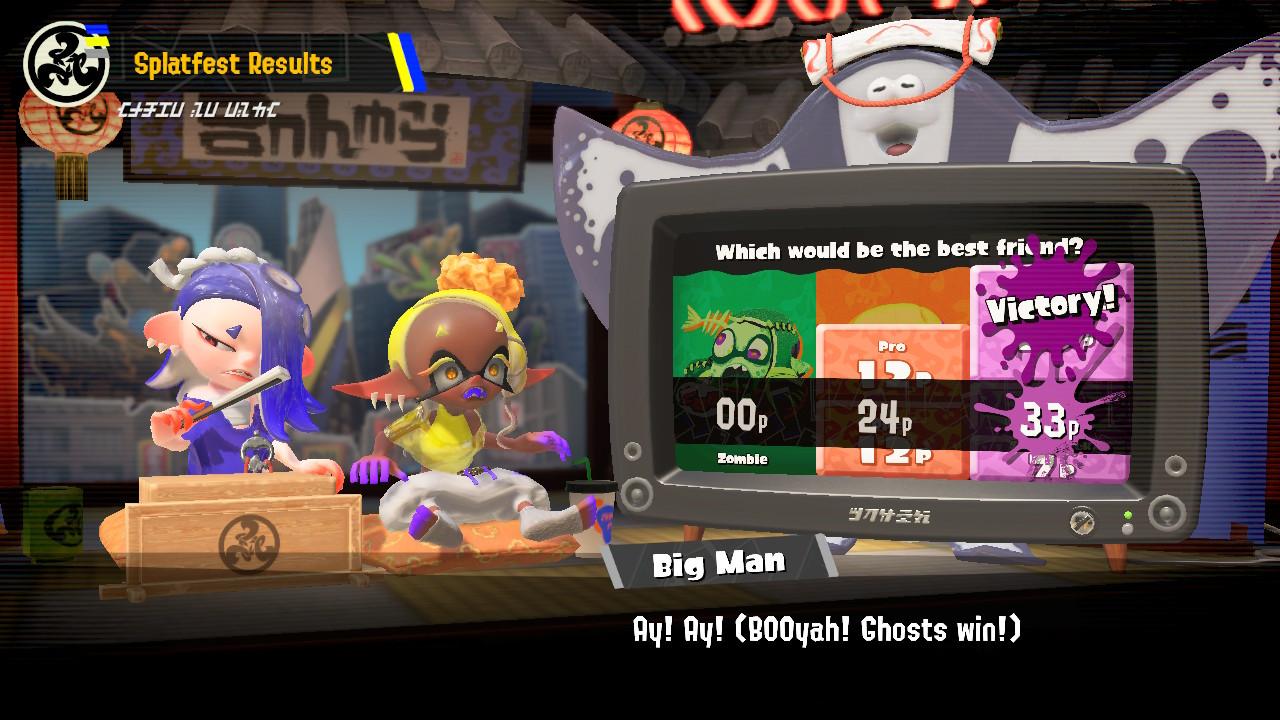 As shown above, Team Ghost came away with the win with 33 points. Team Skeleton scored some points of it own, though it wasn't enough. Team Zombie unfortunately didn't earn anything.
Here's a further breakdown of the results:
Splatfest #10 Halloween Results – Zombie vs. Skeleton vs. Ghost
Final Results
Team Zombie: 0p
Team Skeleton: 24p
Team Ghost: 33p 
Sneak Peek
Team Zombie: 33.55%
Team Skeleton: 30.00%
Team Ghost: 34.45%
Votes
Team Zombie: 19.32%
Team Skeleton: 17.66%
Team Ghost: 63.02%
Clout (Open)
Team Zombie: 33.11%
Team Skeleton: 33.62%
Team Ghost: 33.27%
Clout (Pro)
Team Zombie: 33.91%
Team Skeleton: 35.12%
Team Ghost: 30.97%
Clout (Tricolor Battle)
Team Zombie: 32.73%
Team Skeleton: 33.46%
Team Ghost: 33.81%
Did you get a chance to fight for your team in the latest Splatfest? Let us know what you make of the results in the comments below.
Related