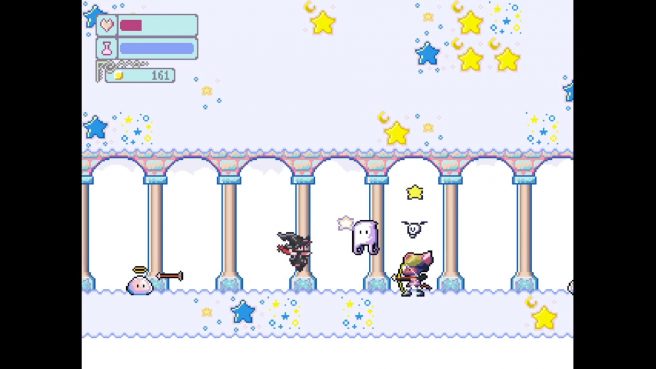 QUByte Interactive announced today that they're working together on Spell Crisis, which is coming to Switch. A release window hasn't been confirmed.
Spell Crisis is 2D action platformer with exploration elements that's inspired by Mega Man and Harry Potter. If you're interested in the game, we have more details in the following overview:
This game is a tribute to classic retro games with exploration elements. Use defensive/abilities or offensive magic and the overly judgemental hat to help little witch Sukie defeat the Broom Gang witches. The new spells you learn depends of your decisions in game, since you can follow the way of one of the ancient magical factions of New Salem: Chickendor and Defythering. Of course, you can play this journey using a balance of these two types of magic.

You will play as Sukie, a witch aprentice of New Salem Witchcraft School. You will receive the help of a lost rare magical artifact, the Overly Judgemental Hat (aka Chapeletta).

Sukie needs to prove her innocence and defeat the Broom Gang, a group of outlaw witches that stole rare magical items. During her journey, she needs to follow the path of one of the two main old groups of New Salem: Chickendor (for pacific but chicken-hearted witches) or Defythering (for brave but impulsive witches).

Megapotter (a mix of Megaman's and Harry Potter's mechanics): your choices matters, new magic powers are determined by your decisions after beating a boss;
Play using chickendor(defense and abilities) or defythering (attack) spell powers, or a balance of these 2 types (legendary rumors says its possible to use all);
Hidden paths that can be reached only by using determined types of magic;
24 full of challenges areas ( 20 main areas + 4 unlockable optional bonus areas)
16 unlockable magic powers: 8 chickendor and 8 defythering spells
Retro style gameplay with exploration elements
Retro style pixel art, sound and music
Anime aesthetics
Hidden items, upgrades and treasures!
Get a look at a trailer for Spell Crisis below.
Related