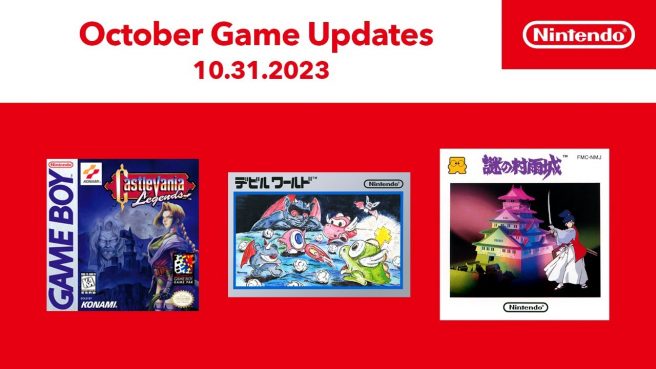 Three new games have just appeared on Nintendo Switch Online with Devil World, The Mysterious Murasame Castle, and Castlevania Legends.
Devil World and The Mysterious Murasame Castle represent the NES. Castlevania Legends, meanwhile, originally launched for the Game Boy.
Here's some information about each game:
Devil World – One of Shigeru Miyamoto, Takashi Tezuka and Koji Kondo's early Famicom games, now available for the first time in the U.S.! Navigate treacherous mazes and avoid the machinations of the devil in this puzzling adventure – but be careful, because in Devil World this demon calls all the shots! Luckily, fans of Super Smash Bros.™ Ultimate may already be familiar with his antics as an Assist Trophy: Wherever the devil points, the entire maze will scroll in that direction, potentially constricting your movements and closing off your escape route. The devil really is in the details!

The Mysterious Murasame Castle – A mysterious, villainous force has taken control of Murasame Castle in feudal Japan. Join Takamaru, a brave and young samurai apprentice, and use his sword and shuriken attacks against swarms of enemies on a journey to reveal the source of evil wreaking havoc across the land.
Game Boy

Castlevania Legends – Storm Dracula's castle and enter the heart of evil in this action-adventure game, released for the Game Boy system in 1998! Take up arms as Sonia Belmont – first of the legendary Vampire Hunters – and confront the Prince of Darkness in this adventure that takes place before the original Castlevania game. The history of Castlevania begins here!
Find a trailer for Devil World, The Mysterious Murasame Castle, and Castlevania Legends on Nintendo Switch Online below.
NES, Game Boy – October 2023 Game Updates – Nintendo Switch Online
Related