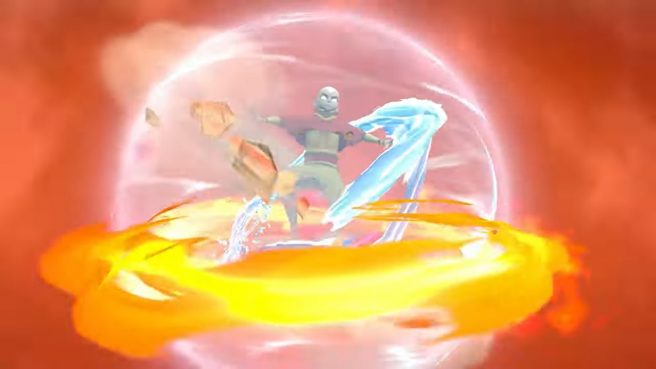 In the latest Nickelodeon All-Star Brawl 2 character spotlight, the team is showing off Aang – from Avatar: The Last Airbender – and his moveset.
Aang returns from the previous game, but has a new moveset and an updated design. He can use his air scooter and glider, but now has another jump. Overall, he has strong movement capabilities and combo potential. As the Avatar, Aang is also able to use different elements in his attacks. As a downside, since he's one of the lightest characters in the game, he's easier to knock out.
Here's some information about Nickelodeon All-Star Brawl 2:
Nickelodeon All-Star Brawl 2 lets you duke it out with the series' biggest and best fighting character roster yet, including all-new characters like Squidward Tentacles, Jimmy Neutron, and more to be announced. Choose your favorite brawlers, master their unique move sets, and use brand-new powerful Supers to land the finishing blow. Nickelodeon All-Star Brawl 2 will launch with its own single-player campaign featuring roguelike elements, voice acting for all playable characters, and full crossplay on all game systems.

Key Features

A Totally New Fighting Game Experience: Rebuilt and reimagined from the ground up, Nickelodeon All-Star Brawl 2 redefines what a Nickelodeon fighting game can be with new and revamped visuals, audio, animations, modes, stages, mechanics, taunts and move sets, competitively tuned for all levels of play.
New & Improved Brawlers: Nickelodeon All-Star Brawl 2's roster is bigger and better than ever, with even more variety in how each unique character plays. Battle with brand-new Nickelodeon fighters, as well as returning fan favorites!
Hit Hard With Supers: Power up your fighters with incredible new Supers, which can deal devastating blows to opponents.
Single-Player Campaign: Nickelodeon All-Star Brawl 2 will launch with a unique campaign featuring roguelike elements. Put your skills to the test as you fight to stop Danny Phantom archvillain Vlad Plasmius from taking over the Nickelodeon universe!
Voice Acting for All Playable Characters: Feel the energy and excitement of every attack with a fully voiced cast of fighters, including the talents of Tom Kenny (SpongeBob SquarePants) and Bill Fagerbakke (SpongeBob SquarePants).
Minigame Mayhem: Nickelodeon All-Star Brawl 2 introduces all-new minigames to play alone or with friends. Compete for global leaderboard high scores in Pinch the Blimps, Whack-a-Bot, and Irken Armada Bootcamp Survival.
Full Cross-Platform Play: Battle it out with up to four players on any platform with seamless crossplay, utilizing enhanced netcode for consoles and PC.
View the new Nickelodeon All-Star Brawl 2 spotlight trailer for Aang below.
Official Aang Spotlight
Nickelodeon All-Star Brawl 2 is slated for 2023 on Switch. We have a character spotlight for SpongeBob here, Squidward here, Jimmy Neutron here, Patrick Star here, Raphael here, El Tigre here, Plankton here, April O'Neil here, and Donatello here.
Related