System: Switch
Release date: October 31, 2023
Developer: Astral Shift
Publisher: Square Enix Collective
---
Little Goody Two Shoes is the first game I've experienced that truly feels like a fairy-tale story come to life, and I'm not talking the family-friendly Disney variety. The quaint countryside village of Kieferburg may seem like your average sing-songy folk town at the surface, but murmurs of a witch in the woods and strange happenings nearby have residents becoming paranoid. To make matters worse, protagonist Elise is getting caught up in the middle of it all, after a strange supernatural encounter promises to grant her her life's wish if she manages to complete strange tasks before the end of the week. What follows is a tense, often funny narrative adventure that frequently had me on the edge of my seat, even when the tedium of its time-management gameplay began wearing on my patience.
It's made more interesting by the fact that Elise is kind of a jerk, and often not the easiest protagonist to root for. While she's certainly suffering a bit from the recent death of her grandmother, she's also very selfish and inconsiderate, and wants nothing more than a life of wealth and luxury. If she can manage to gather a few items called Testaments and deliver them to a strange forest denizen by the end of the week, she's been promised that her wish will be granted, albeit potentially at a cost. All of this is further complicated by the sudden arrival of a ditzy girl named Rozenmarine, who basically breaks into Elise's house at the start of the game after claiming to have seen her in her dreams for years. It's a rich and multilayered rabbit hole of a narrative that becomes deeper and more twisted over time.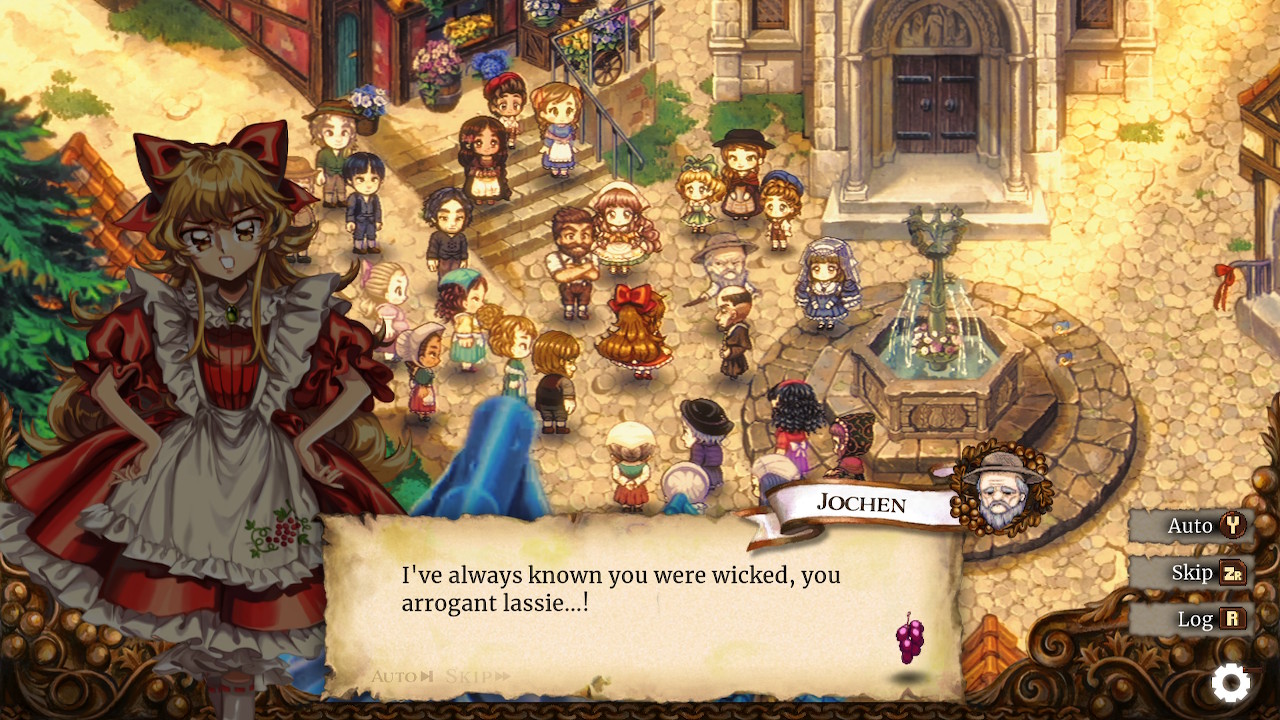 Structurally, Little Goody Two Shoes is a game of two halves. During the day, its gameplay often feels more more like a light life-sim than anything else; Elise needs to eat multiple times a day, and food costs money, so Elise needs to pick up odd jobs around town to survive. (These play out as delightful arcade-style minigames with in-world theming and chiptune soundtracks, and they're awesome.) At the same time, it's also narratively important that Elise find a romantic partner before the end of the week, so the game encourages players to set aside time each day to go on a date with one of three love interests. Doing these tasks or engaging in major story-focused scenes advances time in-game, so its up to the player to balance Elise's time the best they can.
At night – during a small sliver of time called the Witching Hour – Little Goody Two Shoes plays more like a horror game. For one reason or another, Elise often finds herself venturing into the woods, which becomes a perilous place full of very dangerous creatures, traps, and puzzles. Enter the forest unprepared and you're likely to have a hard time, adding another layer of resource management – do I keep Elise fully fed for as long as I can during the day, or I do I stock up on bandages and ointments before venturing forth at night to ensure I can come out of the forest hellscape in one piece?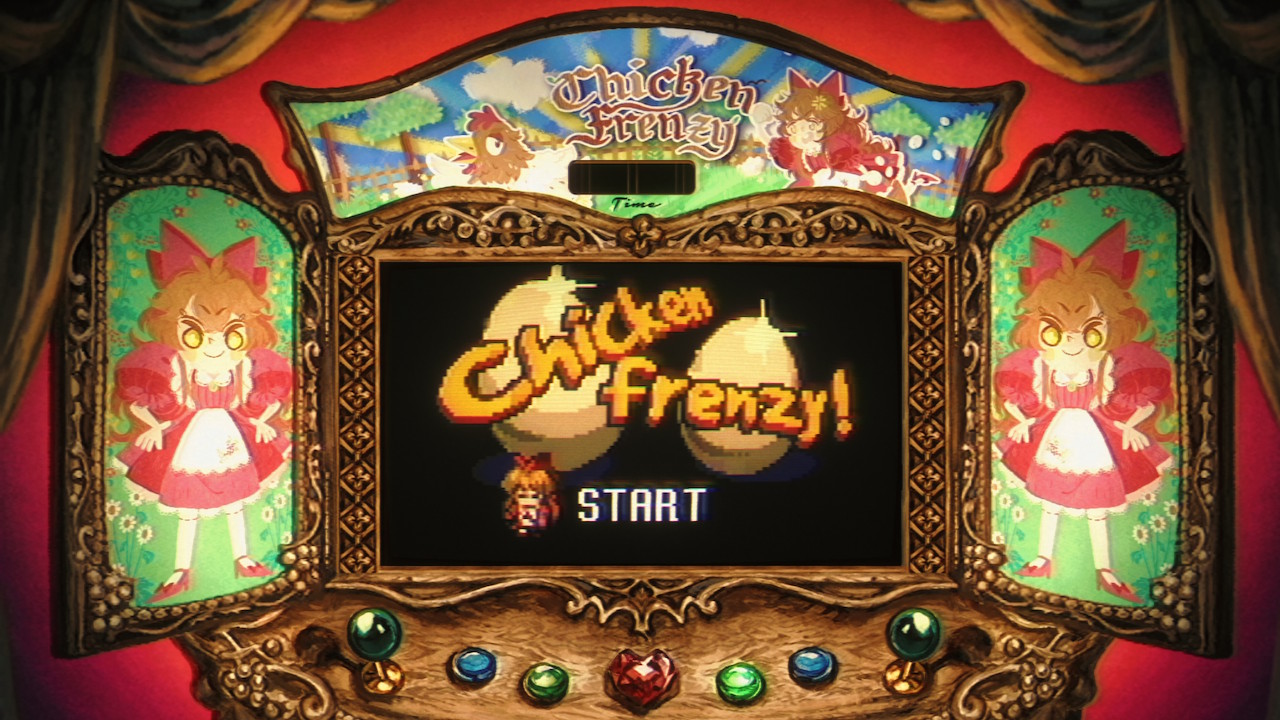 It's an interesting premise for a gameplay loop and not that distant from something like Persona on paper, but it's not perfect. Even as I allocated my time in what felt like the best way, I never felt like the in-game economy was balanced enough around everything else I had to do. Making money via minigames was always amusing, but the strict scoring often left me with not enough funds to afford everything I needed, and the structure of the game doesn't let you reattempt these tasks without spending your (already limited) in-game resources or reloading a save. I did the latter a few times out of necessity, but it certainly took some of the fun away. You can sell certain items to make a quick buck, and somedays objects will just appear on the ground or be given to you by NPCs, making it all but essential to do several comprehensive loops around town each day. But about halfway through the game, this whole system had become really tedious and I was wishing I could have just focused more on the story.
I did really love chatting with the various residents of Kieferburg, who are all very well-written and manage to feel distinct thanks to some beautiful character art. The bad news for Elise is that there's a literal witch hunt going on in Kieferburg, and depending on how you respond in dialogue, there's a very likely chance that the residents will believe she's the witch. There's some benefit to talking to folks as it helps expand the lore and provide additional context as to what might be going on, but make enough folks suspicious of you and it's very possible you'll stumble across one of the game's ten endings before the mystery gets solved.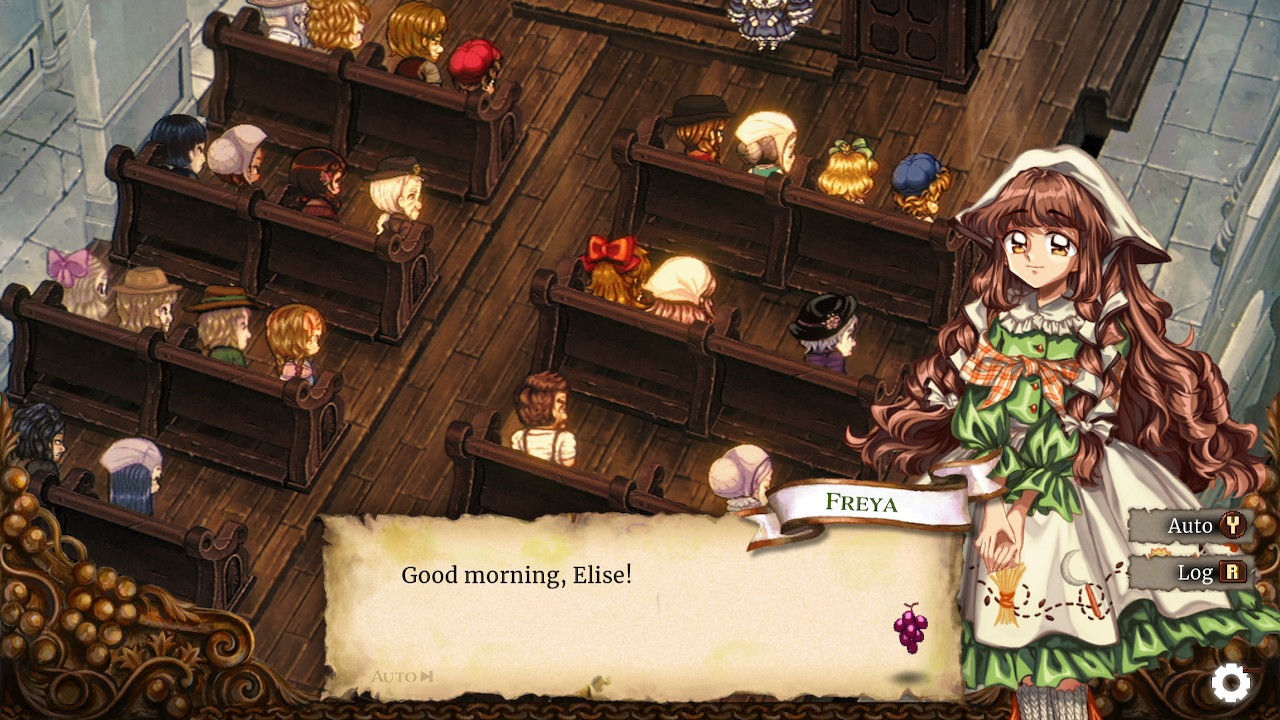 It's also not a guarantee that your dates will just automatically go well, as your responses – even when they're honest – might prevent you from connecting with your partner, something that also can affect how the final moments of the game play out. It's really fascinating, and adds stakes and tension to even small social interactions. As each day passes, these stakes just keep rising, too. Although I don't want to spoil too many details, Elise's nighttime forest escapades get more surreal and more horrifying, and late in the game I really began to question whether I should be helping Elise pursue her goals at all.
There are other systems at play, too, whose narrative repercussions are alluded to in loading screens but which may not make themselves fully known until late in the game. For example, there's one specific character who is spying on Elise and essentially threatens to blackmail her unless the player keeps the twerp well-fed every day. There's also a broader mystery going on in Kieferburg that, if the player pursues it, will have Elise stumbling into abandoned buildings and dark caves. But these spaces will chip away at Elise's Sanity – another stat that can only be managed by careful spending on Remedies. All these little mechanics are somewhat unimportant individually, but as a whole they play a critical role in helping Little Goody Two Shoes feel mechanically dense. Again, I don't necessarily feel that makes all of these mechanics feel essential, but they were all engaging for a good chunk of the game.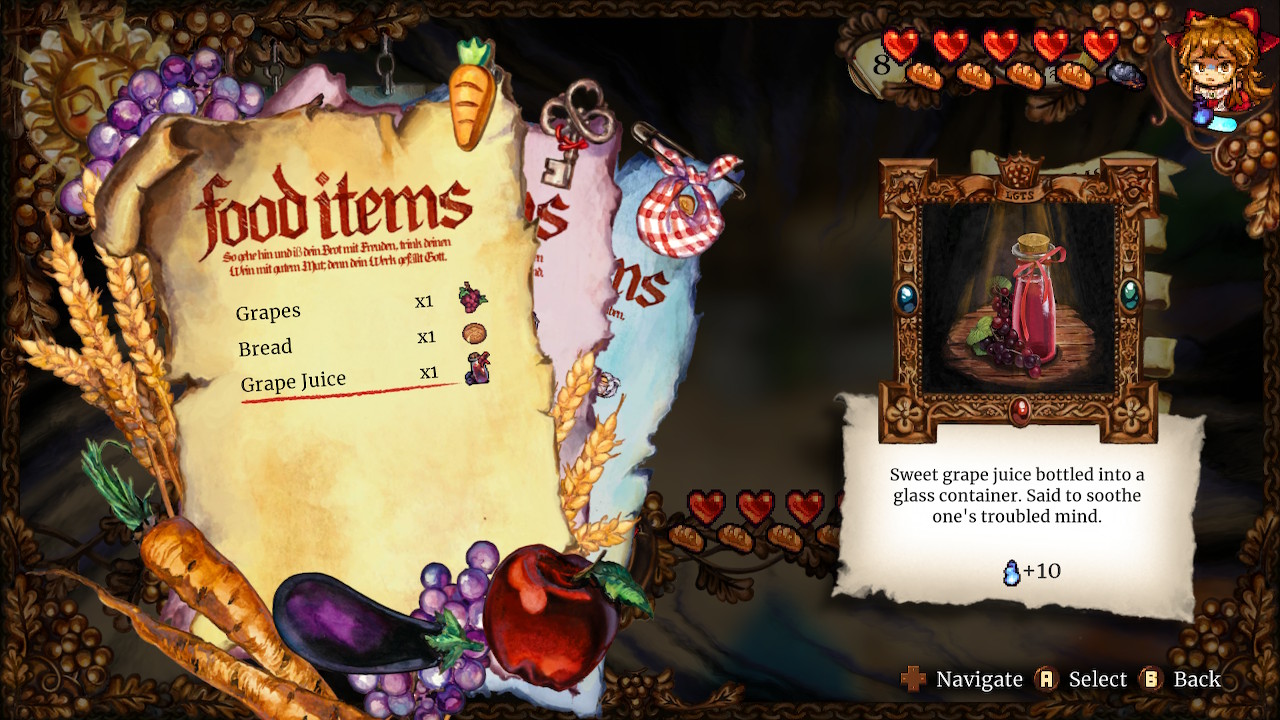 Another big reason that Little Goody Two Shoes is so absorbing is because of its immaculate and astonishingly creative art direction and presentation. A hybrid of 90's anime-inspired character portraits and intricately drawn environments that look straight out of a storybook, its unlike anything else I've seen. At night the world is bathed in darkness beyond the glow from Elise's lantern, yet it still manages to look beautiful (albeit also much more oppressive). Your inventory menu is viewed on parchment scrolls adorned with calligraphy, and your relationship status is monitored by opening a a heart-shaped locket. There's just so many little visual flourishes that really help sell the whole fairy-tale aesthetic, and its a big part of the reason why the whole package works as well as it does.
The music is similarly incredible, although it would have perhaps benefited from a few more tracks. During the day, bubbly, whimsical jaunts led by playful vocals underpin player exploration – its so light and fantastical that you can just imagine the singing animals off in the distance. At the same time, there's almost always a small hint of creepiness to the chord progression, a constant reminder that not everything is as it seems, and that aura becomes more prevalent in the music as the day slowly shifts to night.
---
The Verdict

---
Little Goody Two Shoes tells a fantasy mystery story that is captivating from start to finish, masterfully capturing the essence and themes of fairytales while still managing to spin an original take on some of its tropes. While not every moment of gameplay is fun – I grew tired of having to scrounge up cash just to keep Elise alive – the social-sim elements help flesh out the world of Kieferburg and, consequentially, helped invest me in Elise's plight. Fans of narrative-rich adventures should absolutely give this one a shot.
---
Little Goody Two Shoes copy provided by the publisher for the purposes of this review.
Related