Version 4 has realtime lighting improvements and extensions to Episode 1 levels and makes the game more challenging.
Most levels can now have playable framerates with realtime lighting on, though levels with very open areas like Level 07: Catwalks may still be slow and would need more changes than better rendering visibility blockers. Realtime lighting performances can be further improved by turning the monster shadows off, turning soft shadows off might improve a little too.
---
Weapons & Powerups:
The Power Ammo has turned into a double damage powerup. There's a Gameplay Settings menu where it's possible to alter the damage multiplier or even turn off some of the more powerful powerups for extra challenge.
Catnomicons now have proper function, they give Combat, Armor, Treatment and Sporty powerups for the duration of the level. Combat gives a little damage boost, Armor and Treatment regenerate armor and health, Sporty makes player move faster and take less or no falling damage.
Spent kinda lots of time on tweaking the weapons, suppose they're pretty good now, but definitely not going to add more. Rather I'll just polish the current weapons models/textures if needed. Maybe doing a new model for the Railgun, as it's no longer a Sniper Rifle type of weapon, it's become more Shotgun like and uses Shells for the ammo.
The Lightning Ripper alternate fire uses its own ammo and fires a chain lightning bolt. The Machinegun now only has one firemode: full automatic 1200rpm. The Flamethrower is more devastating and has less ammo. The Plasmagun alternate fire no longer homes automatically into enemies, need to guide it manually.
---
Extensions & Adjustments:
There are now 3000 monsters on Hard and 50 secrets in Episode 1. Good luck surviving all the monsters and finding all the secrets. If Hard seems easy, there's also Extreme, which makes the monsters a bit more aggressive and there's lots more of them (the video above was Level 09 on Extreme). For new players Medium or Easy can be a good choice.

Level 04: Toxic Tunnels got an extension to the end and more toxic slime.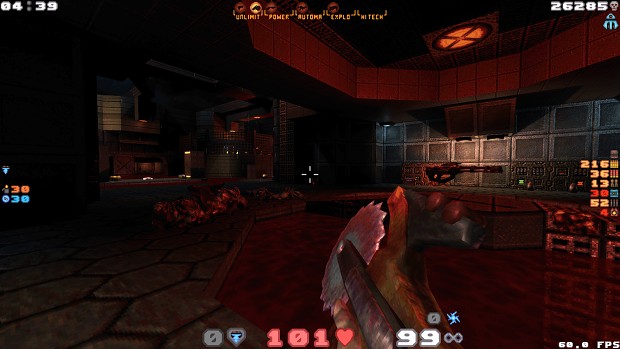 Level 08: Blood Processing got more blood, there's a large pool of blood ahead where player needs to swim for a bit.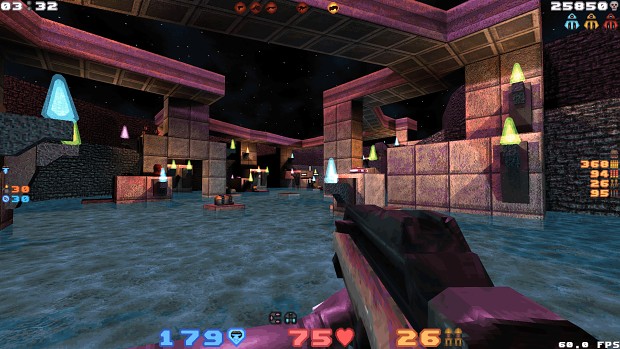 Secret 99: Hexed got some adjustments too. The quicksand got replaced with water, which makes this area more attractive looking and plays more fun.
There are new sounds for Fiends, Demon Spawn and Flying Maggots. The ingame messages can be translated, currently there's: English, Finnish and R'lyehian translations. The crosshair can now change color depending on target health.
Armor got simplified to just 3 types. Player can no longer jump over enemies if both are on same level ground, however player can jump/climb over a little higher walls than before. Now player can get surrounded by the enemies which can be dangerous.
More detailed changelog can be viewed here: Store.steampowered.com
If you don't have Hell Denizen yet and want to try the Early Access, you can get it here: