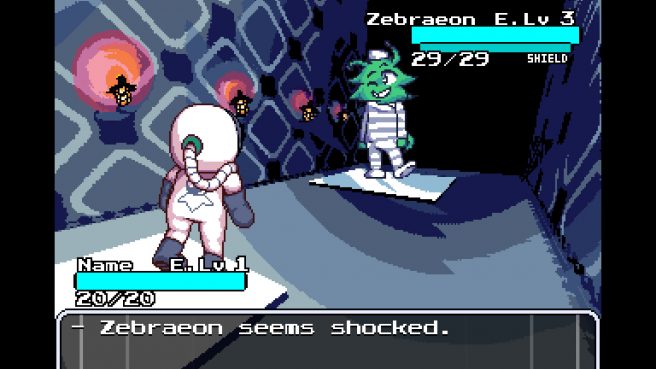 After a successful run on Kickstarter, Astromeda will be seeing release on Switch. Just over $10,000 was raised for the game's recent campaign.
For those that haven't heard about Astromeda, it's an adventure RPG inspired by Undertale, Celeste, and Hollow Knight. It features a mix of real-time fast-paced and turn-based combat. 
Learn more about the game in the following overview:
Dive deep into the world of Astromeda, full of lovable, quirky characters, along with unique gameplay mechanics. The fusion of real-time fast-paced and turn-based combat offers an exhilarating experience that is easy to get hooked on!

Explore the world in fun and innovative ways, utilizing a 3D pixel art style for captivating visuals as you traverse different locations.

Engage in thrilling boss battles that provide entertaining gameplay with exceptional replay value.

An asteroid hit the Earth, ending all life. An alien bacteria was released from the ruins of the asteroid. It rapidly multiplied and all the bacteria born absorbed the leftover DNA of humans and animals on Earth. As a result, a new race of thriving bacteria inhabited the Earth forming a peaceful colony. Many years later, the Earth finally became habitable for human life again. Four human survivors, lucky enough to escape the Asteroid can finally return to Earth. Not knowing what's in store…

Key Features

A unique battle system that combines exciting fast-paced and turn-based gameplay, inspired by Undertale and Hollow Knight!
Beautiful original art, with the addition of 3D pixel art styles to enhance the visuals!
An original soundtrack full of personality.
A narrative brimming with soul, rich in character, and laced with humor.
You have the power to change the world… and the story.
You can pet a Bacteria.
You can pet multiple Bacteria.
You can pet so many Bacteria that you get gold.
If you don't pet the Bacteria you die.
Get a closer look at Astromeda with the trailer below.
Reveal Trailer
The game is expected digitally on Switch at launch. Keep up with the game by checking out the official Kickstarter page here.
Related